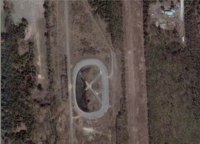 Satellite photo from 2007, submitted by Chris Halliday.
This is how Northern Raceway looked in June of 2005 when Glen Thomas visited it and in May of 2005 when Gerry Liscumb visited.

The original name of the track was 5th Line Speedway. It was built by John Wagner and opened in 1965 as a dirt track and was paved in the first year. It closed in July of 1967 due to competition from nearby Heyden Speedway. The track re-opened in 1971 after Heyden closed and ran until 1987 with a brief closure in the early 1980's. The remains of Northern Raceway are located 1/3 mile west of Hwy 17 on the 5th Line.

In addition to the oval, there is also a 1/4 mile drag strip. The strip is located on the outside of the oval front straight. The grandstands were shared between the oval and the strip so they are set back from the oval. There was also a figure 8 track as part of the oval. The oval pits were located behind the back straight.

Glen reported that most of the infrastructure is gone. There are no buildings remaining, no fences, lights, etc. The track surface for all 3 tracks are still in good shape. As can been seen in the photos, the steel structure of the grandstand is still there but most of the boards are missing or rotted. Glen must have been adventurous that day as he obviously climbed to the top of the rotted grandstands.

If anyone has any more information on Northern Raceway - photos, programs, points champions, years in use, etc please contact me webmaster@motorsportscentral.com.

Photos
Courtesy of Glen Thomas

| | | | | |
| --- | --- | --- | --- | --- |
| From the top of the grandstands - the oval is partly visible | On the drag strip looking back toward the start line. The oval is in the distance at the right. The grandstands are on the left. | | | The starter's stand which is located at the edge of the drag strip. |
| | The oval is to the left, the drag strip in the middle and the starter's stand on the right. | | | |
| | | | | |
Photos
Courtesy of Gerry Liscumb, Jr

| | | | | |
| --- | --- | --- | --- | --- |
| Drag strip | Back straight | Pit slabs | Standing in turn 3, looking down the back straight | |
| | | The Figure 8 track in the infield | | |
Historic Photos
Courtesy of Glen Thomas

| | | | | |
| --- | --- | --- | --- | --- |
| July 1977 - the starter's stand was originally at the edge of the oval | | July 1977 | July 1977 | 1980 |
| 1980 | 1980 | 1980 | | |