Webmaster's Note: I've updated this article after a reader pointed out that I was missing some races. Subsquent research indicated that I was missing six Winston West races. Thanks to Brian Pratt, I've been able to fill in some details of those missing races.

CanadianRacer.com covered the two NASCAR Grand National races in Canada in Part 1 of NASCAR in Canada. In Part 2, we cover the Winston West races.

The first NASCAR Winston West ever held in Canada was on September 7, 1970 at Western Speedway, near Victoria. Ray Elder won the pole position and Dick Bown took the race win by nearly a full lap over second place finisher John Soares. Local racers Gary Kershaw and Dave Cooper finished third and fourth respectively. The race, which featured nine American drivers out of the field of twenty, was witnessed by 3600 spectators.

On July 13, 1971 the Series visited Langley Speedway in Langley, BC for the first time. The race had originally been scheduled for July 9 but rain forced a postponement. Hershell McGriff took the win in the 150-lap race by nearly a full lap over second-place finisher Ray Elder. Over 5000 fans were in attendance.

The 1972 season saw the Winston West Series make two visits to Canada. The two events were a Canadian mini-series sponsored by Export "A".

The first event was on July 2 at Langley Speedway for a 150-lap race in front a packed grandstand of 7000 spectators. Ray Elder was the early leader but he made contact with a lapped car and faded from the lead. Hershel McGriff took the lead on lap 10 and never looked back. He went on to win by two laps over Jack Jeffery in second and Bill Butts in third. Elder ended up fourth.

The following night, on July 3, the Winston West series rolled into Western Speedway. A full house of 4200 fans were on hand. Ray Elder was again the early leader, holding off Jack McCoy for the first 40 laps. Dick Bown passed both of them and took the lead. The last 10 laps was a close battle between Bown and McGriff. McGriff was banging on Bown's rear bumper but could not make the pass. Bown won by four car lengths over McGriff. Sonny Easley was third.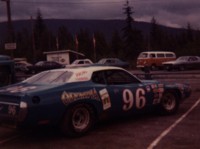 Ray Elder at Westwood in 1973
photo by Mike Currie

On July 8, 1973 the Winston West Series made its first-ever visit to a road course outside of the United States. The event was at the 1.8 mile Westwood Racing Circuit near Coquitlam, BC in front of a crowd of 9000. Jack McCoy was the pole winner but he was passed on the first lap by Jimmy Insolo. Insolo was later passed by Dick Bown on lap 26. Bown had built up a large lead until a full-course yellow came out. His luck turned even worse when he was black-flagged and put to the back for passing the pace car on the full-course yellow.

The last 31 laps were led by Ray Elder with Sonny Easley just behind. Dick Bown pushed hard to catch up to the leaders but could only get as high as sixth. The win paid Elder $1400.

The second Canadian event of the 1973 Winston West season was at Western Speedway on September 5 for the Victoria 150. Jack McCoy was the winner. (web master's note: I have not been able to find any race reports on this event)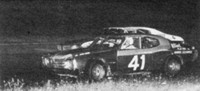 Ernie Stierley on the inside of George Behlman at the 1974 Western race
photo appeared in the July 14, 1974 issue of Wheelspin News with no photo credit
The 1974 season saw another visit to each of Westwood and Western.

The Winston West tour made its second-ever visit to the Westwood road course on June 23. Jimmy Insolo had the fastest car during practice and qualifying. His qualifying time was 1:14.8. Insolo was the early race leader until he lost his brakes on lap 5 and slid off the track into an embankment. Jack McCoy led briefly until he was overtaken by Sonny Easley.

While the lead was changing hands Ray Elder was working his way up from his poor starting position. By lap 15, he was in second place. Both Elder and Easley pitted during a full-course caution but Easley only took on two tires while Elder changed four. The fresh tires gave Elder the edge and after some close racing that included contact between the two cars, Elder was able to take the lead on lap 54.

Another full-course caution gave Easley the opportunity to put on fresh tires as well. Easley lost his brakes late in the race and slid off the course. He was able to recover and finish second to Elder. Elder earned $1450 for the win. Jim MacMillan and Ross Surgenor were the only Canadians in the race.

The Western Speedway event for 1974 was on June 26. Sonny Easley started third but by lap 56 had passed Ray Elder and early leader Jack McCoy. Easley lost the lead on lap 101 to a hard-charging Ernie Stierley who had started seventh. Easley eventually retook the lead and held off Stierley who finished second. Canadians entered in the event included George Stewart, Ross Surgenor and Jim McMillan.

The Series skipped the 1975 season in Canada but returned to Western Speedway on June 30, 1976. The start of the 100-lap race was delayed for two hours due to rain. Canadian Roy Smith won the pole with a qualifying time of 17.55 seconds. He led from lap 2 until lap 42 when he experienced problems with the right-front brakes. Smith ended up as the highest finishing Canadian in fourth place. Ernie Stierly won the race over Chuck Bown in second.

George Stuart of Campbell River, BC became the first Canadian to win a Winston West race when he took the checkered flag in the Winston 100 at Western Speedway on June 29, 1977. Fellow Canadian, Roy Smith finished second in the race that saw only one yellow flag and was run in slightly more than 30 minutes. There were 3090 fans in attendance.

Three of the top four positions were taken by Canadian drivers at the Winston Victoria 100 at Western Speedway on June 28, 1978 but the race was won by Jimmy Insolo, an American. Roy Smith, Rick O'Dell and George Stuart finished second through fourth. It was a hot day, but despite the slippery conditions, the race was run caution-free.

The Winston West series finally returned to Langley Speedway after a six year absence, on June 30, 1978. The 100-lap event was won by Ron Eaton. (web master's note: I have not been able to find any race reports on this event)

Two Canadian events were on the Winston West schedule for the 1981 season. The series returned to Western Speedway on July 8 for the Juan De Fuca News 150. Only sixteen cars started the race that was won by Jim Bown. Jim Robinson led the first 134 laps before being passed by Bown. Robinson held on for a second place finish and Hershell McGriff third. Canadians Bill Hitchcox and Roy Smith finished fourth and fifth respectively.

The second event of the 1981 season was scheduled for Action Raceway (new name for Langley Speedway) on July 18. The event was rained out and never rescheduled.

The sole 1982 Western Series event in Canada for 1982 was at Western. Jim Reich won the 150-lap event on July 10. Victoria's Roy Smith was the top Canadian finisher, in fourth. Rocky Collins, also from Victoria, finished in fifth. Collins did double-duty that night, racing his Late Model to victory in the 40-lap July Cup race.

The last Winston Western Series race in Canada was at the year-old Race City Speedway in Calgary on August 3, 1986. Bill Schmitt won the Player's 500 by seven laps over second place finisher Chad Little. The top Canadian was Bill Hitchcox in third.

Winston West Race Winners
Sept 7, 1970
Dick Bown
Western Speedway
150 laps
July 13, 1971
Hershel McGriff
Langley Speedway
150 laps
July 2, 1972
Hershel McGriff
Langley Speedway
'70 Plymouth
150 laps
July 3, 1972
Dick Bown
Western Speedway
'72 Plymouth
July 8, 1973
Ray Elder
Westwood Racing Circuit
'73 Dodge Charger
Westwood 150
Sept 5, 1973
Jack McCoy
Western Speedway
'72 Dodge Charger
Victoria 150
June 23, 1974
Ray Elder
Westwood Racing Circuit
'74 Dodge Charger
Westwood 150
June 26, 1974
Sonny Easley
Western Speedway
Victoria 150
June 30, 1976
Ernie Stierly
Western Speedway
June 29, 1977
George Stuart
Western Speedway
'74 Chev Nova
Winston Victoria 100
June 28, 1978
Jimmy Insolo
Western Speedway
Winston Victoria 100
June 30, 1978
Ron Eaton
Langley Speedway
100 laps
July 8, 1981
Jim Bown
Western Speedway
Oldsmobile Cutlass
Juan De Fuca News 150
July 18, 1981
rained out, not rescheduled
Action Raceway
BC 150
July 10, 1982
Jim Reich
Western Speedway
Juan De Fuca News 150
August 3, 1986
Bill Schmitt
Race City Speedway
Player's 500
Westwood 1974 - photos courtesy of the Canadian Motorsport Hall of Fame Archives

| | | | | |
| --- | --- | --- | --- | --- |
| Jim McMillan from Surrey, BC | Ray Elder | Jack McCoy #7, John Anderson #91, John Dineen Jr #9 | | Larry Sproule |
Other
| | | | | |
| --- | --- | --- | --- | --- |
| | | 1973 Westwood program cover | 1974 Westwood program cover | |