This is how Sutton Speedway looked in August of 2003. Sutton Speedway was a quarter-mile paved oval with only a very slight banking. Sutton closed after the 1971 season (my best guess). They ran Sunday afternoon at 2:00 pm with Diamonds, Hobbies and 6 Cylinders. It appears that the season started in late June / early July and ran until early or mid October.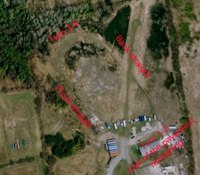 Satellite photo from 2007, submitted by Chris Halliday.
The only wall was down the front straight. The corners and back straight were completely open. The grandstands were built into a hill. They had some really good crowds at times and the fans often spread out onto the hill on each side of the grandstand.

The track often had demolition derbies (or Wreck-Um Races as they used to call them). The Hell Drivers appeared yearly and in 1971 stunt man Ken Carter jumped a car over two school buses.

After Sutton closed, it was used for truck driving courses for a while. At this time the grandstands were still present. The trucks tore up much of the track. Over time the grandstands and buildings simply rotted away. The property was used for various things over the years and today it is the site of self-serve storage units.

The remains of Sutton are located behind a cement plant. As you can see from the photos, there's not much left. Nothing from the grandstands remains, except for some wooden posts. The old starter stand is there as well as part of a very low spectator fence. Most of the track is gone. The only portion that remains is a small piece of turn 1 - 2. You can see where turn 3 and 4 would have been. There is still a base of gravel and stone so the grass isn't growing through as much. On top of the grandstand is some rotted wood that I assume used to be concession stand or part of the control tower.

If anyone has any more information on Sutton Speedway - photos, programs, points champions, years in use, etc please contact me: webmaster@motorsportscentral.com.